Amsterdam, 11 May 2023 – The latest quarterly figures show that the housing market has entered a new phase. Sales prices continue to fall, and homes are on the market for longer and perhaps most striking: massive overbidding is a thing of the past. Instead, underbidding seems to be becoming the new normal. What does this change mean for homeowners, sellers, and buyers in the real estate market?
Average selling price
Our data analysis shows that the average selling price has decreased for the second quarter in a row. In the first quarter of 2023, an average of € 421,760 was paid for a home, which represents a decrease of 2.3% compared to a quarter earlier and 4.76% compared to the same period a year earlier. It is striking that this is the first time in a very long time that the average selling price has fallen annually.
According to Luke Liplijn, founder and CEO of Matrixian, the falling sales prices are due to reduced housing affordability and a decline in confidence. "Rising mortgage rates, high inflation, market uncertainty, and low consumer confidence are having a negative impact on housing affordability. Although demand for owner-occupied homes remains, it is mainly qualitative and not quantitative, meaning that buyers are waiting for a better time to buy, and as a result, sellers lower their prices."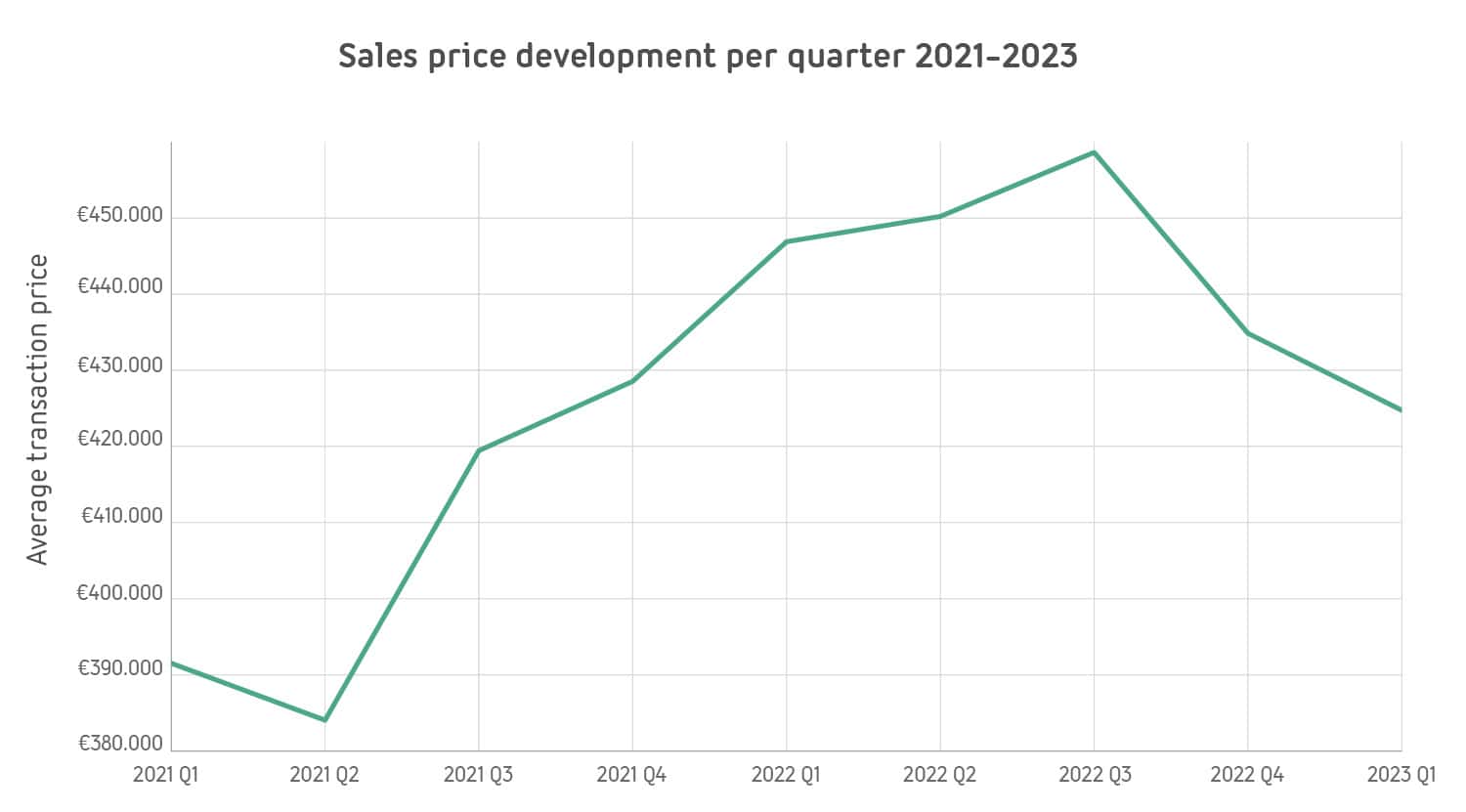 It also appears that the number of homes sold at a reduced asking price, after a significant increase, is now falling again. Luke has explained this development by stating that sellers have adapted to the "new reality". "We had become accustomed to queues of interested buyers at the door and overbidding was the norm. This resulted in a period of many adjustments and reductions in the sales price. But this trend is now starting to change. Sellers are aware of the new circumstances and are now in principle entering the market with a lower sales price, so that they have to reduce it less often."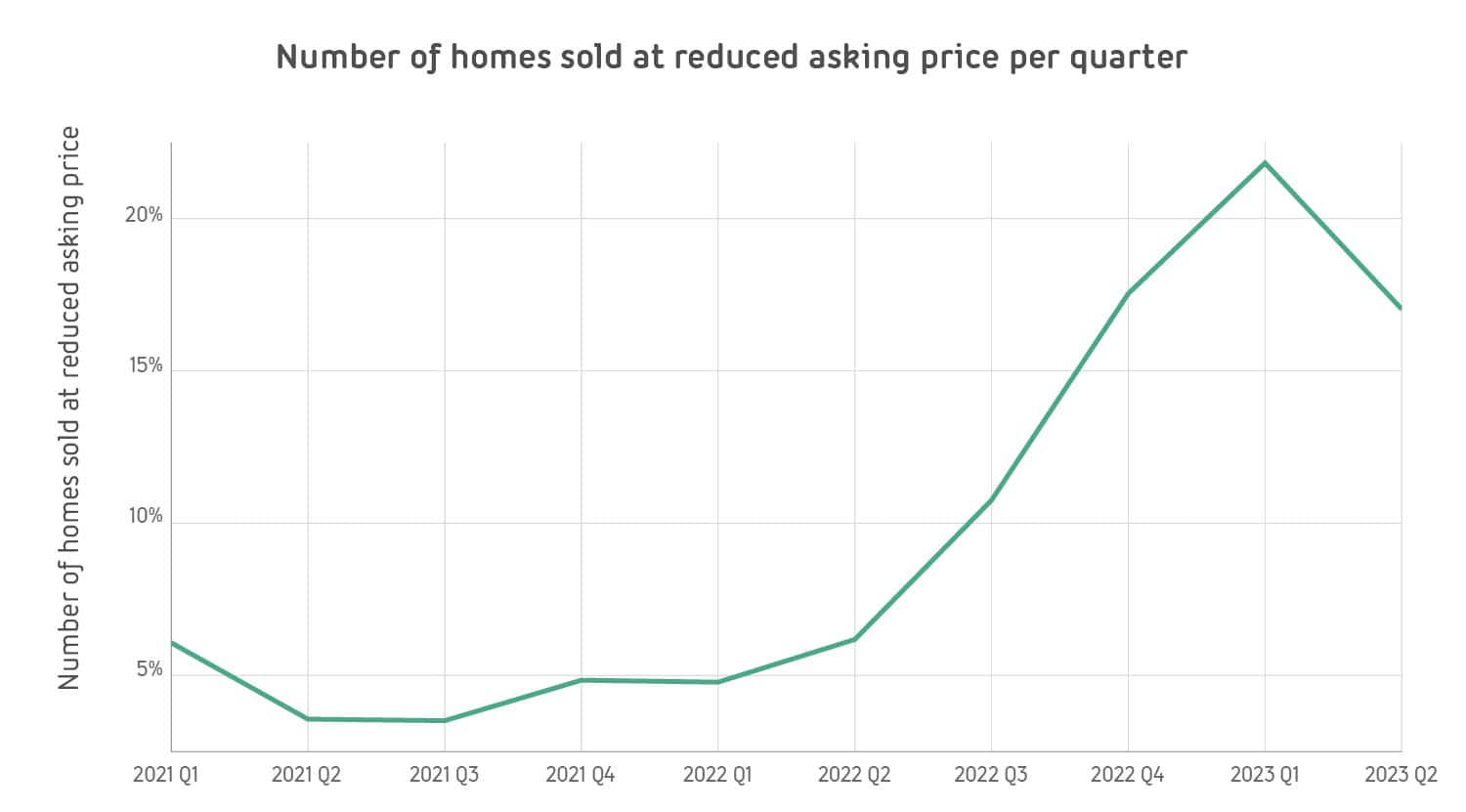 Number of homes sold
When looking at the number of homes sold, we notice a significant decrease. In the first quarter of this year, 40,648 homes were sold, a decrease of 15.2% compared to the previous quarter (47,948 homes). While this can be partly attributed to the seasonal effect, with Q1 generally showing lower sales than Q4, there is also an 11.3% year-on-year decline compared to the same period last year (45,846 homes). According to Luke, this is due to the aforementioned persistent poor affordability of houses.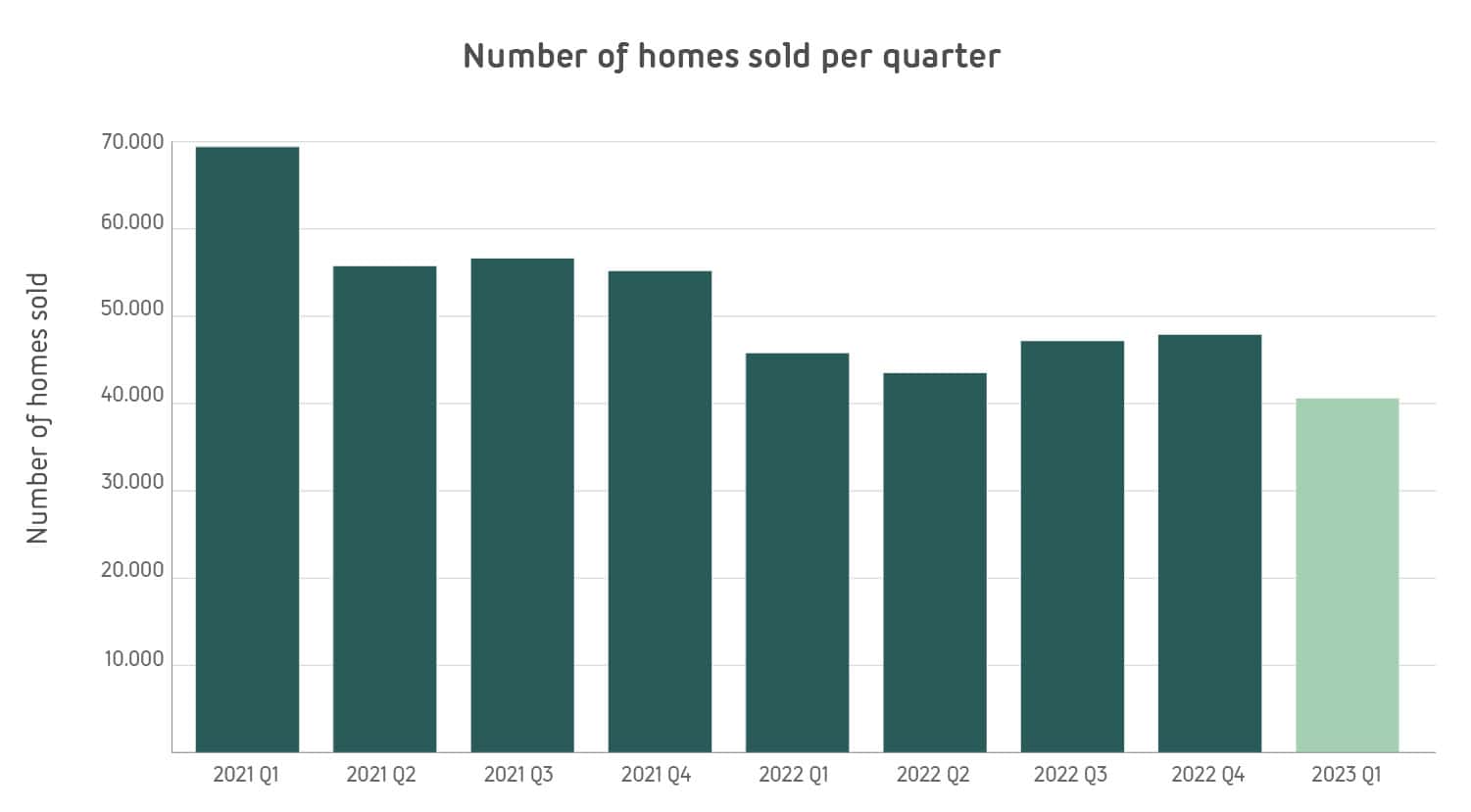 The average over- and underbidding
Luke states that the time of excessive overbidding will no longer occur in the coming years, and this is also reflected in the figures. For example, the asking prices and selling prices are getting closer to eachother. In the first quarter of 2023, the average overbid was only € 940, or 0.67% of the asking price. This is considerably less than a year earlier when the average overbid was € 32,500, or 9.18% of the asking price.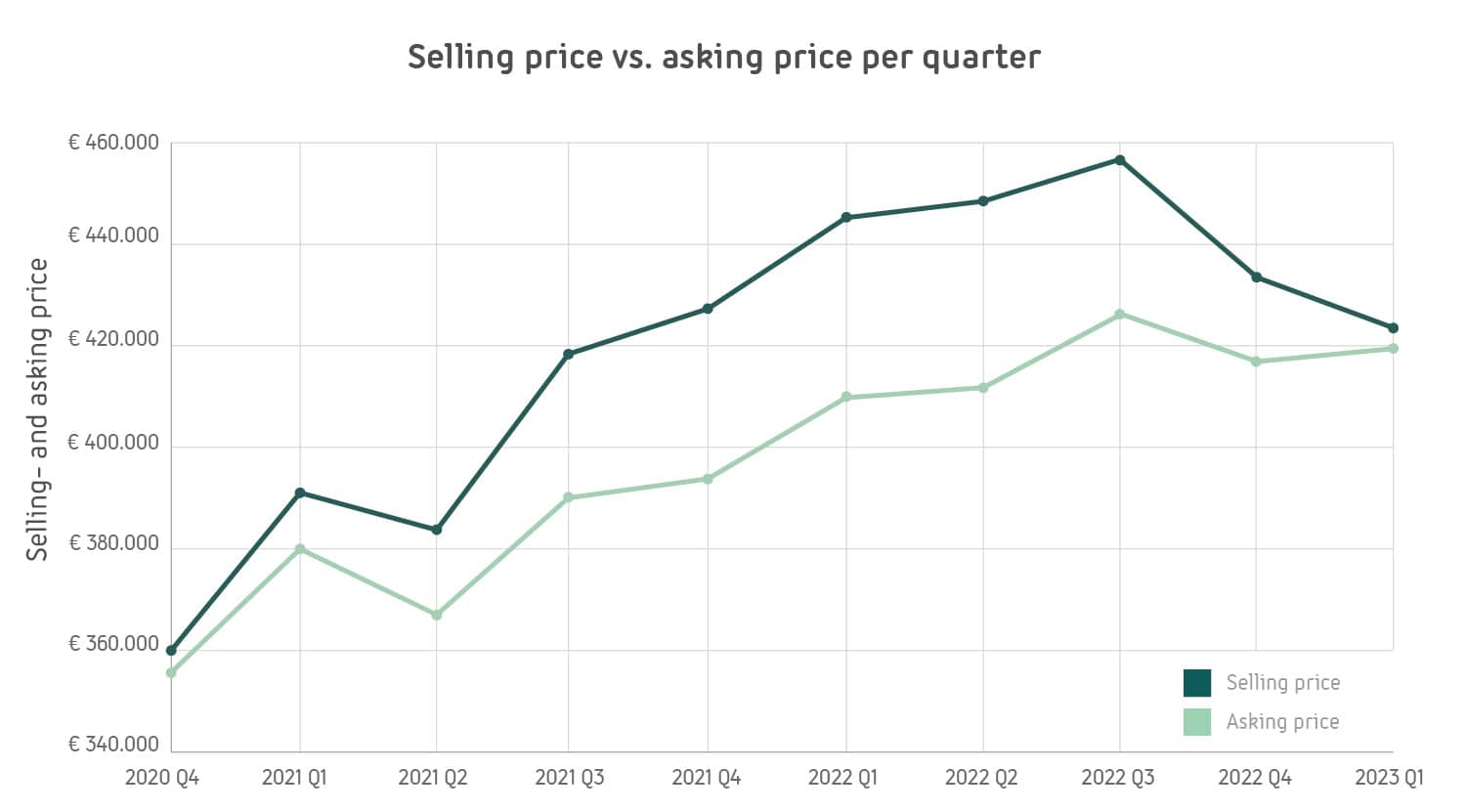 But what is even more striking is the rise of underbidding. Where a year ago, underbidding was rare, in the last quarter of last year there was already underbidding in 26.8% of cases. And in the first quarter of this year that was even the case in 43.4%! If this trend continues, it could indicate a new normal with underbidding returning to normal after a long period of time.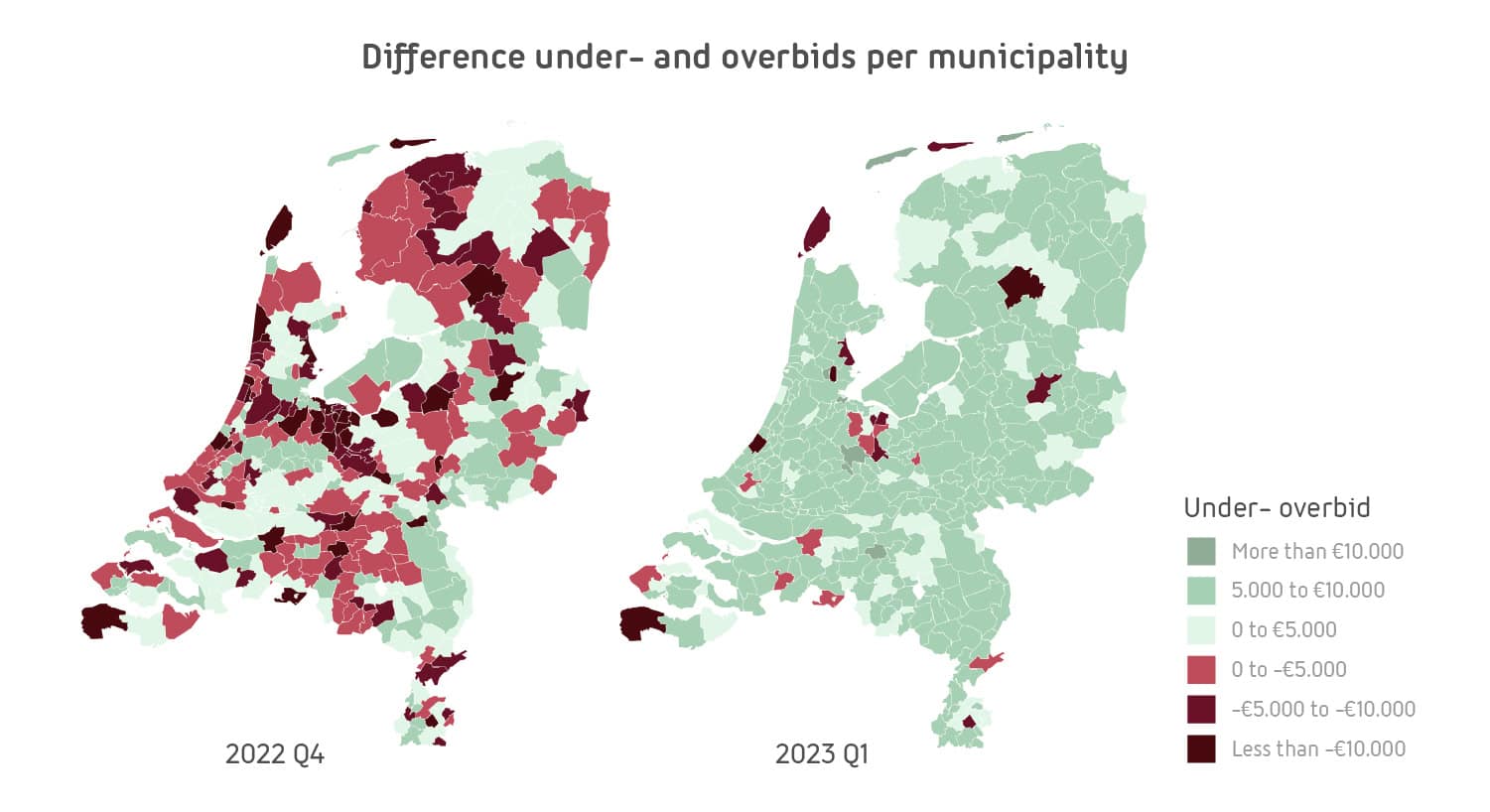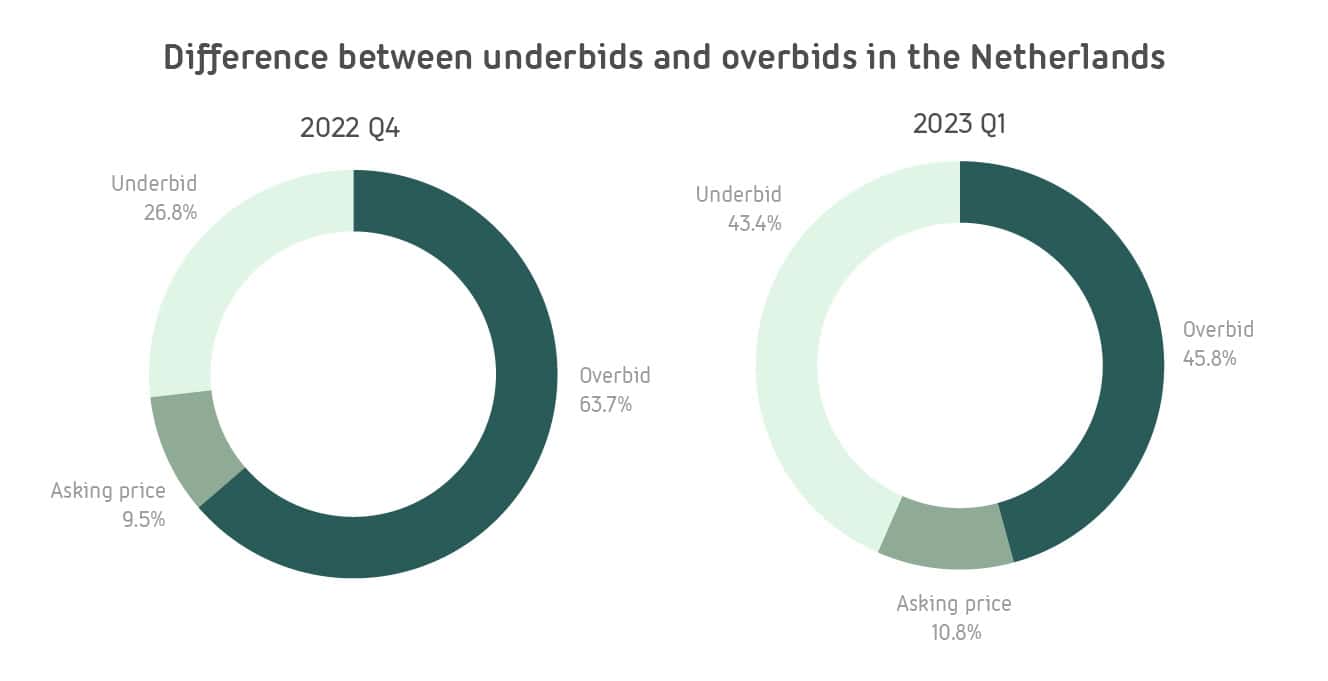 Curious about a specific insight into the housing market?
Buying or selling a home is an important decision. Matrixian has therefore visualized the most important data in its Housing Analytics tool. This gives you a monthly insight into the price development, over/underbids, and average sales time. You can use this tool completely free of charge via the Matrixian platform. Register for free on the Matrixian platform and use the Housing Analytics tool free of charge.
Disclaimer: all figures refer to the private housing market. This does not take into account foreclosure sales and other outliers that could influence the reliability of the analysis.
Automated Valuation Model (AVM)
Housing Analytics