Together with the NWWI (Dutch Property Valuation Institute) we provide brokers and appraisers with highly accurate model-based valuations of individual houses. We are proud to have been working together for more than four years, as the collaboration says a lot about the reliability and quality of the House Value Report.
Reliable and transparent house values
The NWWI is an independent party that meets strict quality requirements and validation standards drawn up by the NRVT (Dutch register of real estate appraisers). The institute validates house valuation reports and ensures that each appraisal is correctly drawn up. The fact that the NWWI has been offering our House Valuation Report for over four years is something we are proud of, as it shows that our calculation model comes to highly reliable and transparent house valuations.
House Valuation Report
We are a data technology company that helps real estate professionals to increase their productivity and revenue through automated housing data solutions. The House Valuation Report does not only provide real estate professionals with accurate valuations of individual homes, but it also provides a complete overview of location data, construction information, the energy label, a cadastral map and reference houses (including purchase prices). An additional advantage is that the report is available in any desired corporate identity (free of charge). That way, brokers and appraisers come across professional when talking to customers and they are well prepared for their (sales) conversation.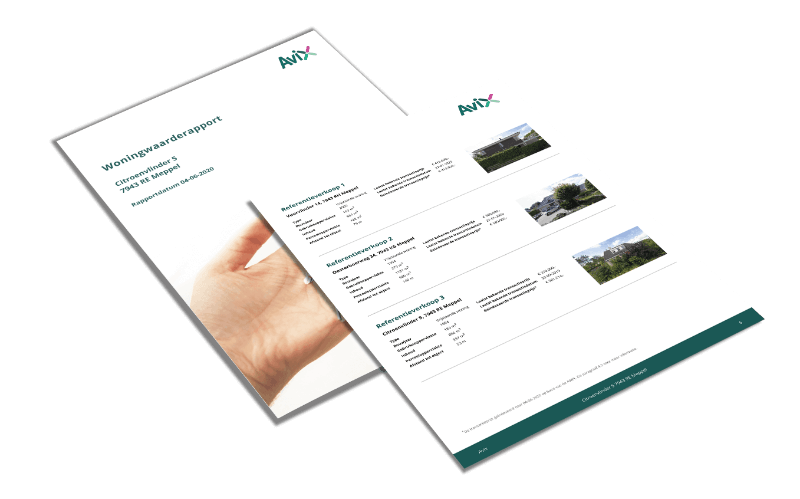 House Valuation Model: Now Even Better!
The quality of the House Value Model has improved significantly. The calculated house values are now more precise, the reference properties delivered are more recent and the underlying house price index is more accurate! The calculation model is based on a large number of characteristics of comparable houses, such as purchase prices, housing types, years of construction, residential and parcel areas. The enormous amount of digital information is used by the model to calculate a weighted average of the prices of similar homes.
More information?
Are you interested in the possibilities or would you like more information about the House Value Report? Please do not hesitate to contact us. You can reach us on: 020 – 244 3256.
House Value Report
Reference House Search