According to the latest quarterly figures, the housing market is continuing to cool down. Our research reveals a decline in sale prices, a growth in the number of homes for sale, and a reduction in bidding wars. Furthermore, the average selling time has risen, which indicates that home seekers have an extended duration and peace of mind to find their desired residence.
Sales price development
In the fourth quarter of 2022, our data analysis revealed a notable trend in the housing market. For the first time in a while, the average selling price of homes fell by 5% to €431,635. Although there was still a slight price increase of 1.45% compared to the previous year, this represents the lowest annual increase in a long time.
According to Luke Liplijn, CEO and founder of Matrixian Group, the decline in sale price is due to several factors. "Along with the increase in interest rates by banks and high inflation, we have also had to deal with sharply rising energy prices and great uncertainty both politically and economically. Additionally, individuals who have purchased a new home may still need to sell their old home, which puts them under pressure to accept a lower sales price."
Moreover, it is evident that the decline in sales prices was not confined to certain regions but rather was a widespread phenomenon. In the fourth quarter of 2022, declining sales prices were noticeable in no less than two-thirds of all municipalities in the Netherlands.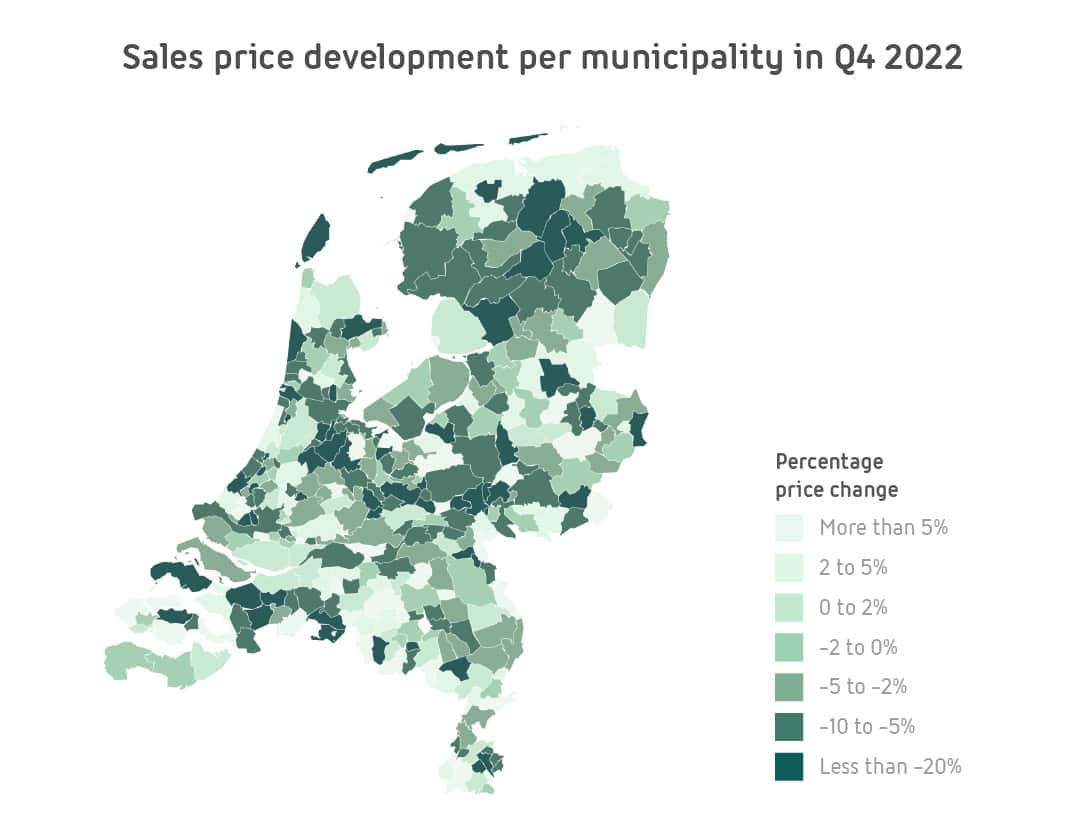 Number of sold houses
In addition to the declining sale price, it is also noticeable that the number of houses that were sold in the last two quarters of 2022 has increased cautiously. In Q3, 47,300 homes were sold, representing an 8.7% increase compared to the previous quarter (43,500 homes). And this upward trend continued in Q4, with 48,125 homes changing owners, a 1.7% increase.
When looking at the type of houses that were sold, we see that terraced houses were the most popular in Q4, accounting for 35.2% of all transactions. This was followed by apartments (28.1%), corner houses (13.6%), detached houses (12.4%), and semi-detached houses (10.7%).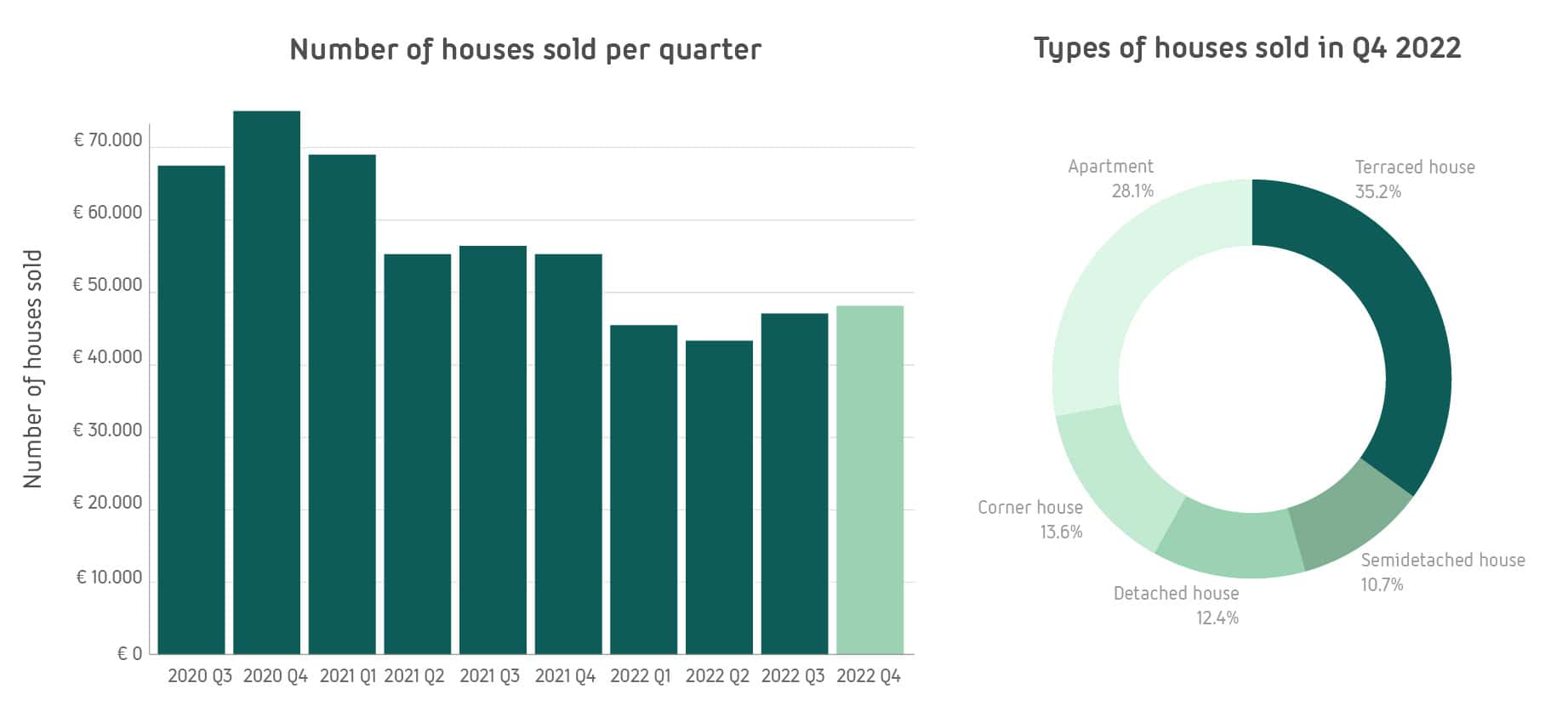 Average Overbidding
There has also been a significant decrease in the number of overbids, which means that the difference between the asking and sale price has decreased. In Q4 2022, the average overbid was only €12,500, much lower than a year earlier, when an average of €30,900 was overbid. "This is good news for potential buyers in the real estate market, as it is no longer the norm to bid excessively, and even underbidding is now a possibility," said Luke.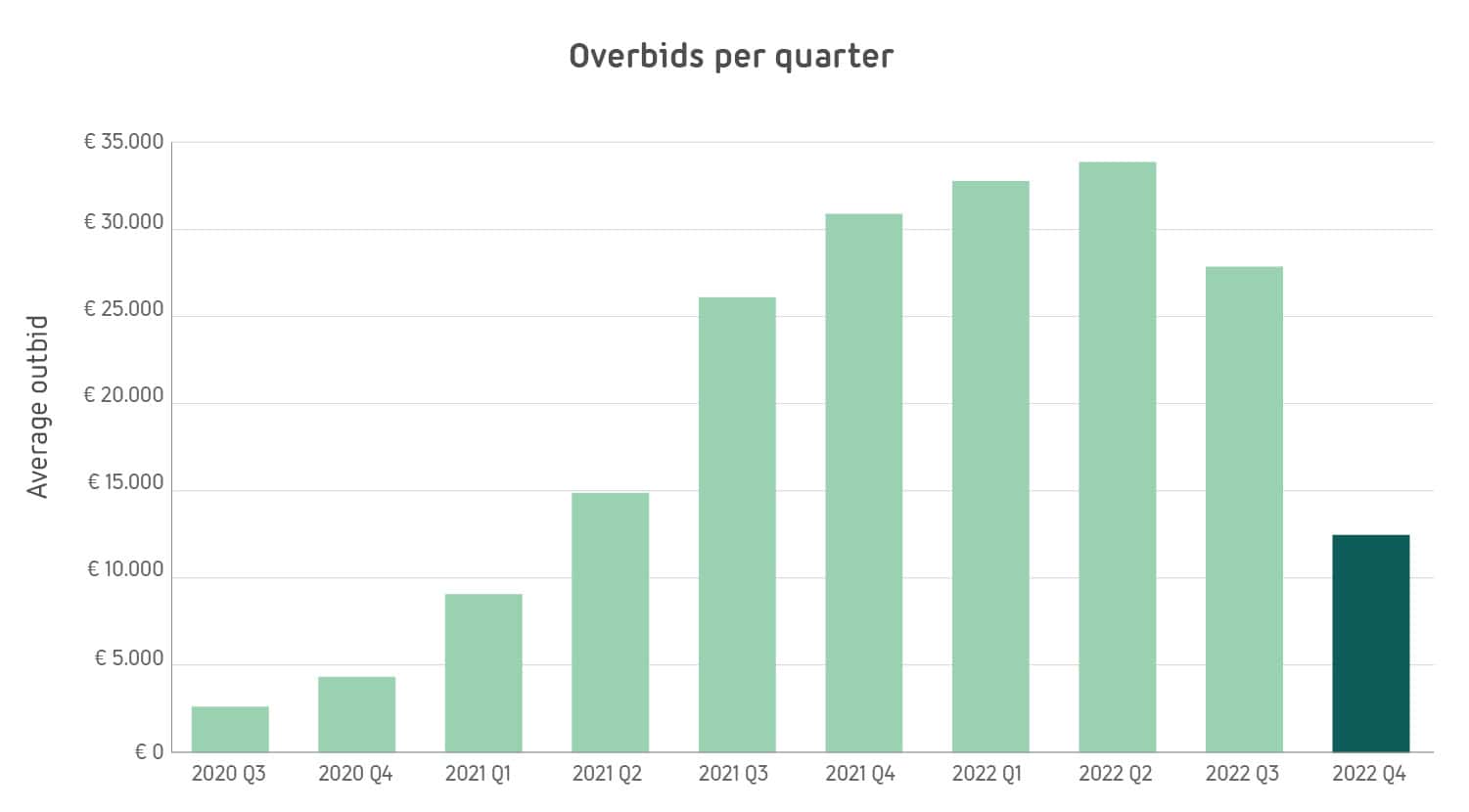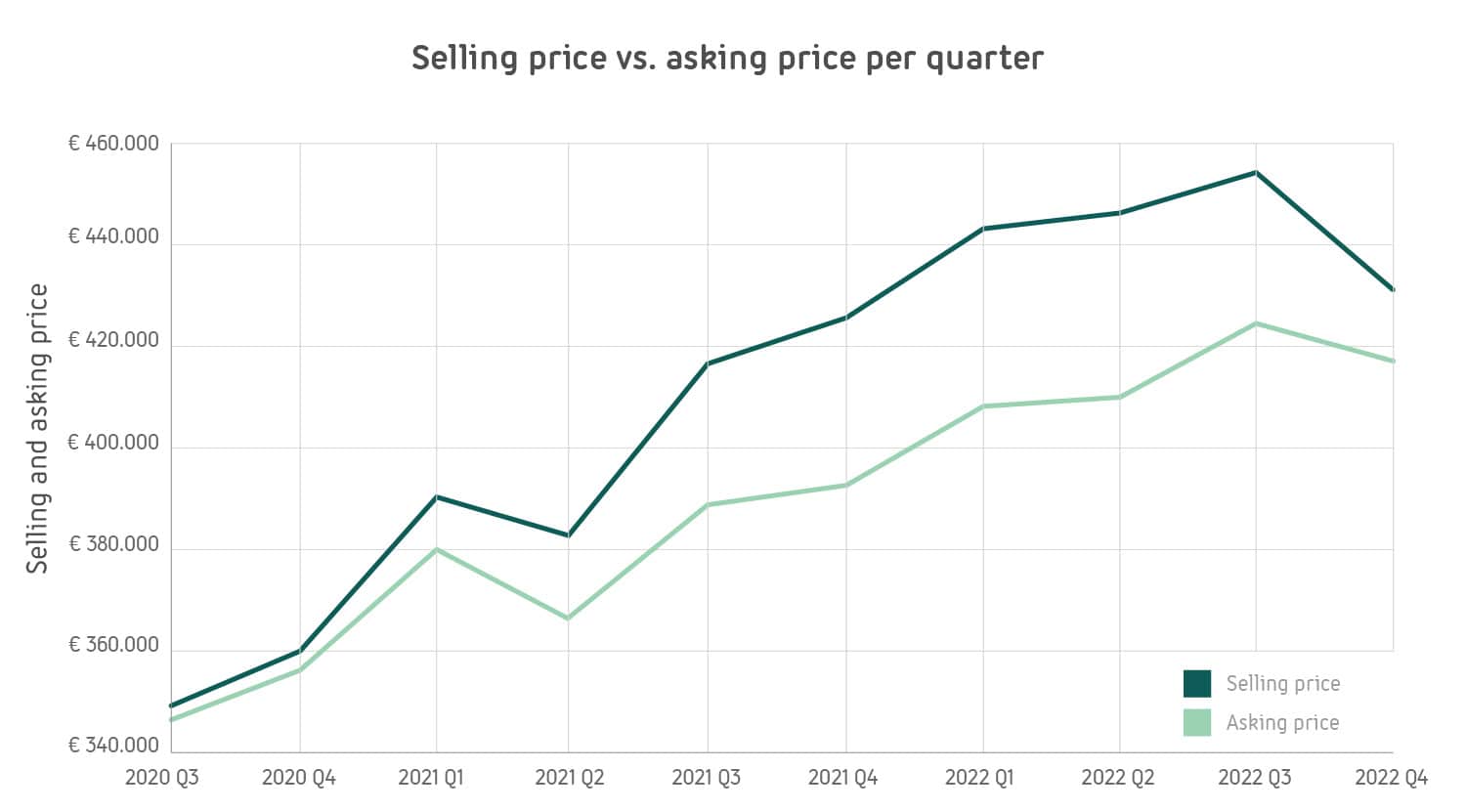 Selling time
Finally, our data analyses show that the average selling time, or the number of days a home is for sale, has increased. In Q4 2022, it took an average of 35 days for a home to sell, which is almost a week longer than the previous quarter. This is the first time in a long time that the average selling time has increased, suggesting that the market has become less frenzied. "This can be favorable for home seekers, as they have more time and peace of mind to make a well-considered decision when buying a home," said Luke.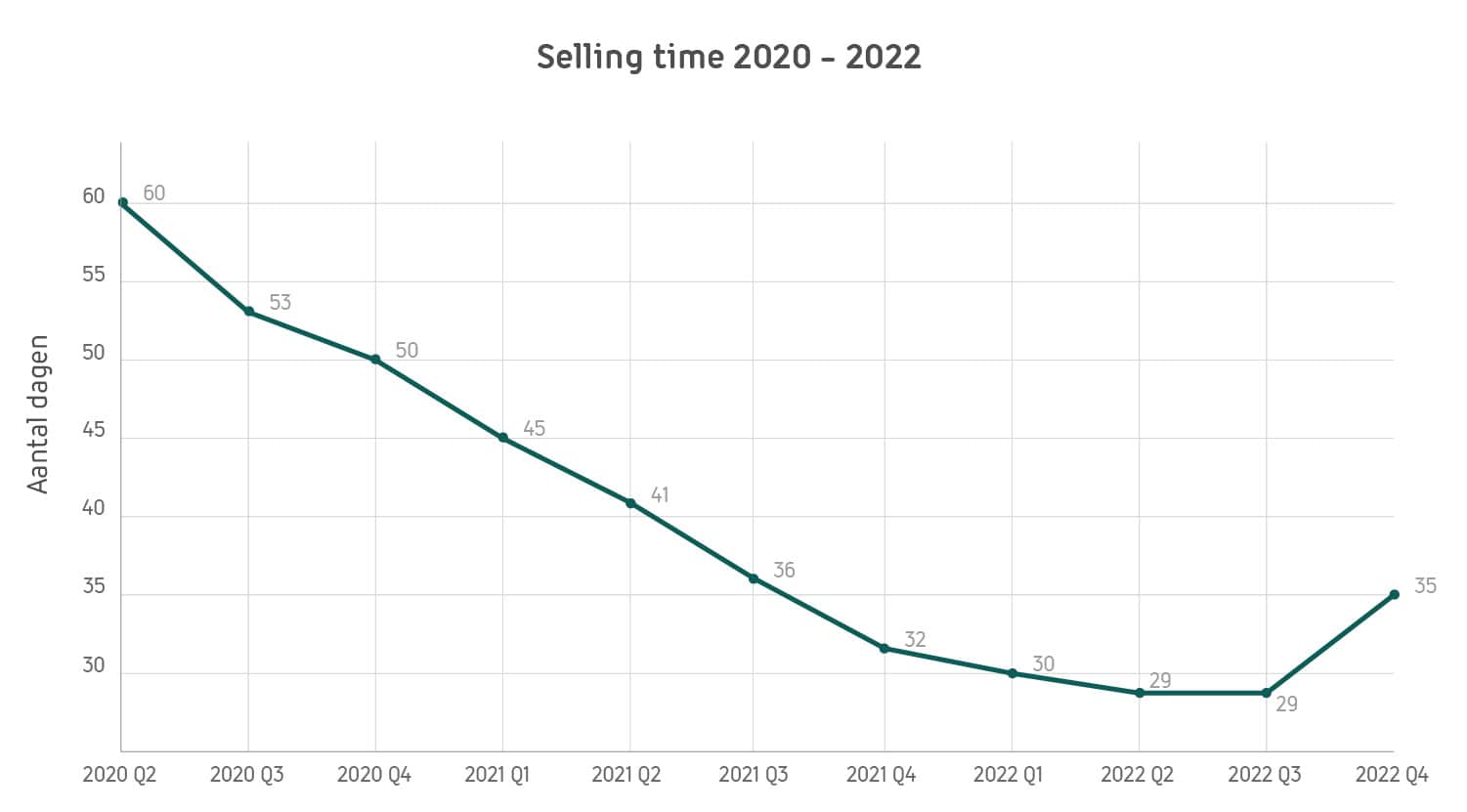 Bron: Matrixian Group
Let op:alleen verkochte woningen zijn in deze grafiek meegenomen
Do you want a specific insight into the housing market?
Buying or selling a house is an important decision. Therefore, we have visualized the most important data in our Housing Analytics tool on the Matrixian platform. This gives you quarterly insight into the price development, over/underbidding and average sales time at national, provincial and municipal level.
Please note: all figures refer to the private housing market. In addition, foreclosure sales and other outliers that cast doubt on representativeness were not included in the analysis.
Automated Valuation Model (AVM)
Housing Analytics