More and more (inter)national governments want to make data public. This means that information can be freely used, reused and redistributed by anyone. Our colleague Thijs Herwig, project leader Urban Intelligence, embraces the concept of open data and is therefore committed to making mobility data accessible to everyone, together with Rijkswaterstaat and the Ministerie van Infrastructuur en Waterstaat. In this interview we ask him about the added value of open data and discuss how the disclosure of mobility data contributes to a future-proof living environment.
When we ask Thijs about the definition of open data he explains that it contains information that can be used by anyone without having to pay for it. "They are often collected by the government and are distributed by or on behalf of the government." For example, the CBS has a rich amount of neighborhood statistics and the KNMI has an enormous amount of weather and climate data. "The disclosure of this data leads to plenty of opportunities because it enables companies to make predictions and operate more efficiently." In the case of mobility data he believes that the disclosure is not only beneficial for companies, but it is also in our general interest that this data is used on a large scale. We ask him for an explanation.
Safe, efficient and sustainable traffic
It is becoming increasingly busy on the roads, resulting in denser traffic flows, more congestion, road safety deteriorates and CO2 emissions increase. "By making mobility data accessible, TMS suppliers, navigation parties and transport companies, among others, can implement this information in their systems and improve their working methods," says Thijs. "This way efficient traffic routes become more transparent and route plans can be drawn up easily". According to him, this contributes to a future-proof living environment, as traffic will only become safer, more efficient and sustainable if optimal use can be made of the available road capacity and road traffic can be offered the most favorable way of traveling.
Thijs works together with Rijkswaterstaat and the Ministerie van Infrastructuur en Waterstaat. They are committed to making mobility data available for everyone. Think of preferred routes, window times and environmental zones. But also at loading and unloading places, parking spaces and parking bans. "The datasets are already available on the Matrixian platform," says Thijs. "They will soon also be published on data.overheid.nl, the public platform of the Dutch government."
The Mobility Map
In addition to making mobility data public, Thijs is also working on a smart tool for road managers. Via their own login, road managers can use the so-called Mobility Map for free. It concerns an interactive map of the Netherlands that makes it possible for road managers to gain an insight into all applicable traffic rules at a glance, which helps them to see the most efficient traffic routes. Because the map visualizes an enormous amount of mobility data in one figure, the huge amount of abstract data suddenly becomes understandable, making it easy to use when drawing up a smart route plan.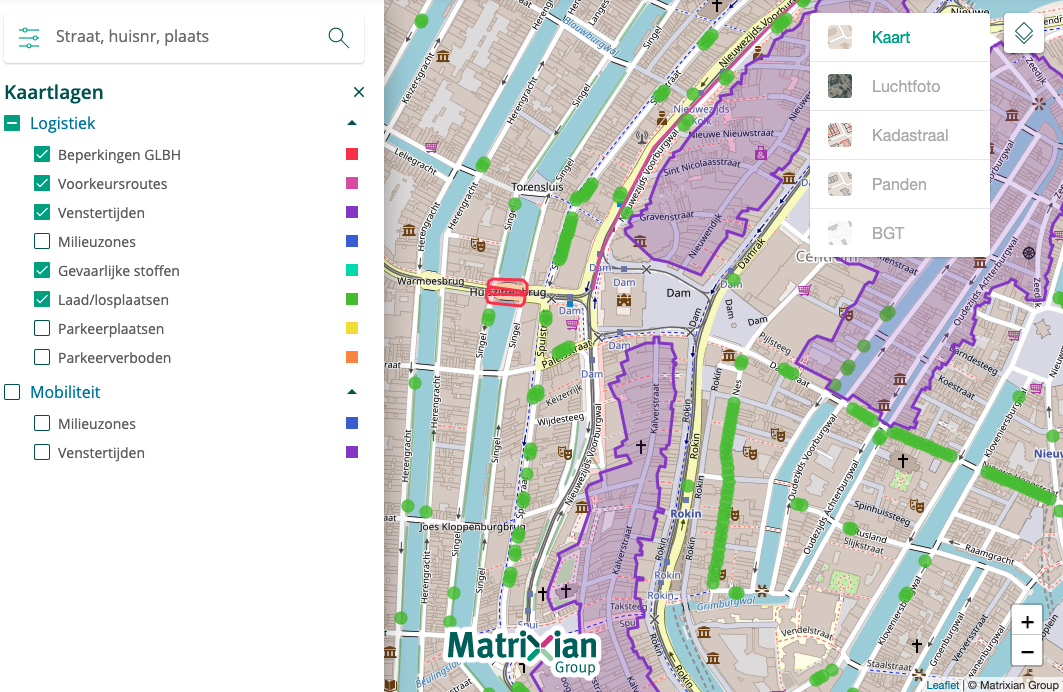 "What makes this application unique is that it's all about collaboration," says Thijs. In addition to disclosing mobility data from public sources, the map has also built up a group of users (road managers) who contribute in making the Mobility Map work. "Because the road managers provide real-time input about window times, loading and unloading locations and other traffic regulations, we can keep the map up-to-date and support them in their day-to-day tasks". Thijs therefore motivates all road managers to register on the Matrixian platform and use this very useful tool for free. "Together we can ensure that traffic flows become safer, smarter and more sustainable," says Thijs.
Interested?
Are you a road manager and do you want to participate or are you interested and do you have a question about the possibilities? Please feel free to contact Thijs via therwig@matrixian.com or +31 (0) 20 244 0145.
Matrixian Map
Sustainable Roofs Opportunity Map